Podcast: Play in new window | Download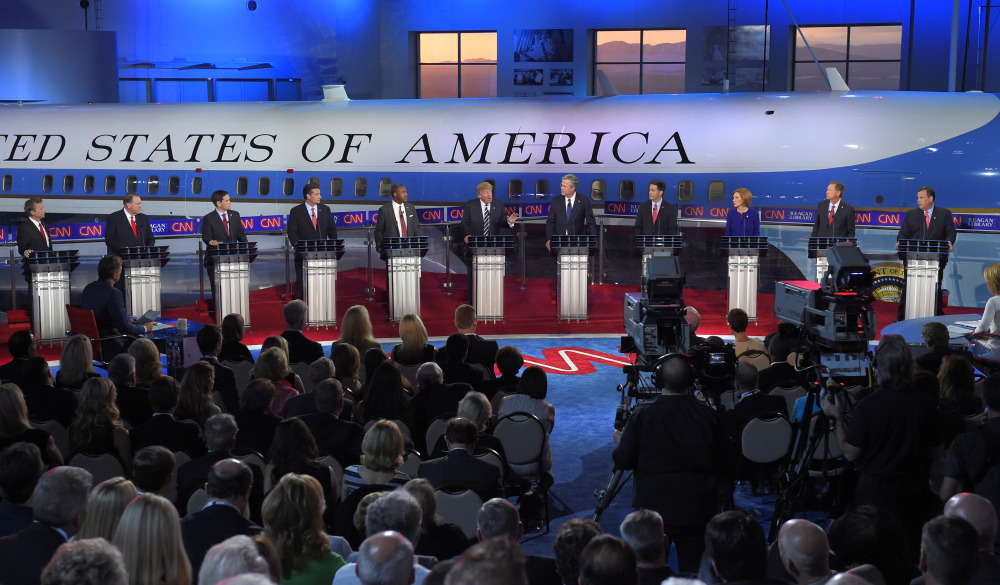 They lined up like contestants in a game show, in front of the prize they get if they win — a huge airplane known as Air Force One. Hard to know what the intended symbolism was, but it made them look like very small people. They came, ostensibly, to explain why they should be selected Pilot in Chief (with the two current front runners leading in the race because they have never flown an airplane).
They were in California, which was burning.
Eight hundred homes consumed, 140,000 acres incinerated, 20,000 people evacuated, part of a years-long trend that every year sees the fire season start earlier, go longer, with more fires, bigger fires, fiercer fires. Not just in California, but in Oregon, Washington (where last week there was a fire front a thousand miles long), British Columbia, Alaska (where a few weeks ago 600 fires were burning simultaneously), the Yukon and Northwest Territories, northern Canada (where for days on end the smoke was so bad the firefighting aircraft could not fly) and all across Siberia (where even the peat was burning ferociously, creating scenes survivors said looked like the end of the world).
Inside the room with the big airplane, they didn't mention the fires.
They spoke in a country whose western third is baking in a thousand-year drought, its farm fields increasingly lying fallow, its lakes and rivers withering away, its cities sucking their water from straws that are beginning to suck air, whose essential summer water source, the mountain snowpack, is at a 500-year low, whose burned-over, parched ground is at the same time at risk from destructive floods from the largest El Nino event ever, in a state whose governor said this week that global warming — if it continues. Right, if. — will cause "mass migrations" of climate refugees — in California.
On the set of the game show, all but three of the contestants refused to talk about climate change; the three all promised not to disrupt the economy because of wild-eyed liberal notions about weather.
Just offshore from where they competed with their backs to the prize, the largest bloom of toxic algae ever seen in the northern Pacific spread from California almost to Alaska, and along that entire distance sea life — from salmon to sardines, from krill to whales, birds by the millions, sea lions by the thousands — have been dying at a rate never seen before.
Just inland from where then pygmies gabble about what they were going to do with the airplane, in North Dakota and Texas, what had been just a few months ago the miracle renaissance of the American oil bidness was a darkening swamp of unemployment and despair, idled rigs, plunging production and bankruptcy.
Nope. Not a word.
Across the Atlantic (whose Gulf Stream is measurably slowing down because of climate change, with fearsome potential consequences for Europe), past Greenland (whose glaciers are melting faster than the worst-case scenarios of just a few years ago), Europe has been distracted from its sinking economy, massive debt and fracturing union by an even worse problem: it is being overrun and destabilized by a tsunami of human misery rolling out of Africa and the Middle East. Increasingly desperate, Europe is starting to call on America for help.
But the 11 dwarfs (and four alternates) nattering in the nave of the Church of Saint Ronald preferred to chirp about the many delights of war, to fantasize about sending more and more troops to die while winning the hearts and minds of the Middle East, to shiver deliciously about the threat to the survival of the world posed by — ISIS? (You remember them. There were 5,000 of them, we killed 15,000, and there are only 20,000 of them left.)
Like the typical game show, the so-called "debate" was a celebration of greed, ignorance and hysteria. Truth and decency were not invited. Not even to the kid's table.