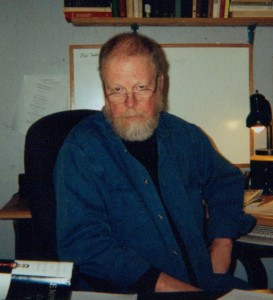 Tuesday, November 12 — How To Tell We Are Really Screwed, Episode 4998: The attorney general of Texas has responded to laws forbidding the watering of lawns from public water supplies by drilling his own well for the sole purpose of keeping his lawn green despite the worst drought in the history of Texas. As if the aquifer his well is tapping is not part of the public water supply. Does he wonder what the poor people are watering their expansive lawns with, tonight?
Thursday, October 24 – As the urgency and certainty and gravity of impending global climate changes all become more certain, the amount of Money the world spends on dealing with it is going down. By five billion dollars last year as compared with 2011, according to the Climate Policy Institute. The total amount, estimated at $359 billion, is about one third of what the International Energy Agency says needs to be spent on clean energy alone to avoid the very worst consequences of climate change. Waiting for somebody to do something? Brace for impact.
Friday, February 8 – The guest host of the nationally broadcast Dianne Rehm Show on NPR just said, as a throwaway line leading to a question, "As the United States approaches energy independence…." INCREDIBLE success of the Big Oil propaganda machine.
Monday, February 4 — Another sign of our descent to Third-World status: we can't keep the lights on at the Super Bowl during the third-most-watched TV event of our lives.  Another sign of who really runs this country: when Coke and Pepsi took umbrage at a competitor's ad (because it advocated making soda at home and avoiding the global scourge of plastic bottles) CBS refused to run the ad. Hey! What about our FIRST amendment rights?
Sunday, February 3 – Lest your Super Bowl experience be entirely without angst, let me remind you to worry about peak chicken wings. As with peak oil, the math is straightforward. Wholesale prices are up 26 per cent over last year, nevertheless supply is down one per cent. According to the National Chicken Council, blame the drought (peak corn) and the mandated use of corn-based ethanol for fuel (we're from the government and we're here to help).  All of our meat, eggs, milk and farmed fish are corn-based, so expect more bad news.
Thursday, January 24 – If you have been annoyed, as I have been, by frequent changes in the appearance of the site during the past several days, please think about getting a life. No, I mean please accept the appropriate apologies. A routine, required update in the site design blew everything up and defied attempts to downdate, or whatever the expression might be. A sideways electron was firmly lodged in one of the site's aortas, so we had to shoot it and bring in a new one. Sorry for the technical jargon, but that's what happened.
Tuesday, January 22 — How far removed from reality are the people who are today leaping in the air and clicking their heels because President Obama mentioned climate change in his second inaugural address? It is like congratulating the captain of the Titanic, as he orders lifeboats away, for mentioning the possibility that icebergs exist.
Monday, January 14 – The New York Times is closing its environment desk and has eliminated the position of environment editor. Officially, this is supposed to have no effect on their coverage of the environment. Unofficially, one of the reporters on the desk explained it thusly: "There's not a lot of news in this area – we're watching glaciers melting – so there isn't an urgency to get things into the paper right away." Just another reminder: It's not the heat, it's the stupidity.
Sunday, January 13 – I have updated Brace for Impact and prepared a paperback edition that will momentarily be available for $9.99. Also am about two-thirds through the novel based on the ideas of the book, working title The Tribulation, that should be available late this year.  Please stay tuned.
Sunday, January 6 – While disparaging the lamestream media, let's not leave out CBS News, the "Tiffany Network," and its formerly stellar Sunday Morning program. Of late they have been showcasing David Pogue of The New York Times doing environmental stories. A couple of months ago he — honest to God — used sock puppets to illustrate the nuances of the "debate" over whether climate change exists. ("No, it doesn't! Yes it does.") A couple of weeks ago he did a cheerleaders' piece on hydraulic fracking. This is him talking, not an industry spokesman: "In fracking we drill way, way down, past the water table, as far as a mile deep and then – here's the technologically amazing part – we make a right turn, and drill horizontally through that layer of shale, so we can "slurp up" all the delicious oil and gas."  Isn't that great, America? And to make it even better, "the finished well quietly pumps out gas for 30 to 50 years." Jeez. Please read this.