Podcast: Play in new window | Download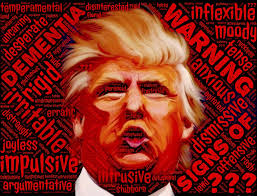 Madness manifests in people and countries in some ways that are obvious to other people and countries, even while the crazy ones remain oblivious to their own affliction. People with dementia, for example, often don't see anything out of the ordinary in having to be reintroduced to people they have known for years, who just left the room a few minutes ago, but friends and family understand instantly what has been lost. Countries that repeatedly invade patches of jungle or sand in Asia or the Middle East, expecting each time they do the same thing to win hearts and minds, accept their state of constant war and failure as normal, but the countries around them do not.
The crazier you are, it seems, and the more completely unhinged your behavior, the less aware you are that anything is amiss. It's one of those situations where, if you think you have a problem, you don't; it's when you cannot conceive of anything being wrong with you that you are screwed.
Lots of crazy people have lucid moments. And in crazy countries, not everyone is crazy. Yet it is clear to others who is nuts. And America, my friends, it out of its collective mind.
I am not making any attempt here to be clinically correct, to use the pretentious jargon of the psychologically stylish — narcissist, sociopath, schizophrenic, whatever. If I did I would be likely to apply them incorrectly. I prefer the language of common sense to make my point about whack jobs and looney tunes.
There is a state of being that I have observed in people close to death, in which they float in and out of reality, at one moment conversing with someone in the room, at the next enjoying a reunion with an old friend who's been dead for 20 years. Like that last waking thought you and I have at night, the one that starts normally but in mid-sentence swerves into sheer fantasy, and then sleep.
I have often thought that this must be a very pleasant place to be, high on dopamine (some researchers think that when the nervous system comprehends that the jig is up, it floods the system's pleasure centers with dopamine), all rules of behavior (including those of gravity and time) suspended, all experiences pleasant, all apprehensions banned. But it's not where you want your driver to be, or your airline pilot. Or your president.
But that is where we are. Our president is displaying all the symptoms of someone who should be in hospice care — floating in and out of reality, confusing false memories and old movies with what really happens, preferring fantasy to life. He seems to be in a dopamine-fueled dream of himself as a king adored by his vassals and his empire's vassal states. He talks fondly of having a tank parade down Pennsylvania in his honor, seems to lust for a war in which he will lead his legions astride a white charger, his golden sword aloft.
Obviously, a total whack job, to use the technical term. There are plenty of people pointing that out, which you could use to bolster an argument that although he is batty, the country is still sane.
But wait there's more. Donald Trump was elected president by the vote of a hair over 25 per cent of the people registered to vote in the United States. In that election, nearly half the people eligible to vote did not bother to do so.
Now that, America, is just crazy.
Shall we do it again, and see if we get a different result?