Podcast: Play in new window | Download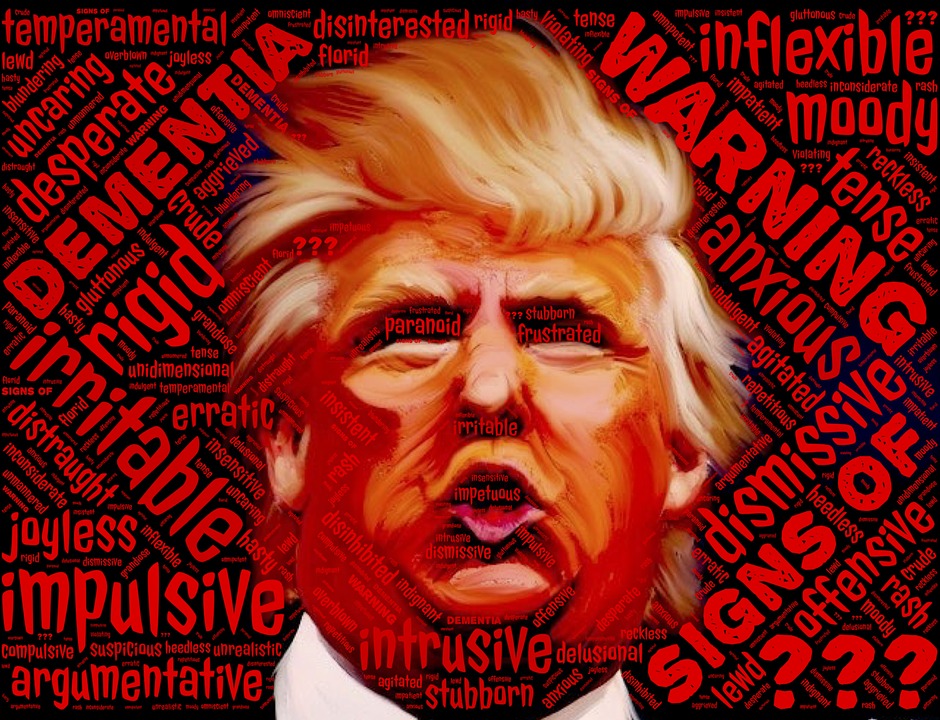 [Dear reader: If you have just come to this website for the fiftieth time to see if I have finally got off my ass and written something, I apologize to you. I created the expectation that I would have content here for your consideration with reasonable frequency, and I have not delivered. Mea culpa. Moreover, this is the second long, unexplained, absence in less than a year. Mea culpa maxima.
I don't know the right label for the syndrome — depression, writer's block, burnout, Deep Ennui, aggravated laziness or what. I don't know if, or when, or for how long, it will come for me again. But today, it has let me out of my dungeon to frolic in the sun and spread cheer and good will. Carpe diem. — Tom Lewis]
Five days into the Trump Administration and there can be no doubt about what to expect for the next four years. Any delusions we may have had that he is not delusional, any benefits of doubt we were willing to grant that he is not a thin-skinned egomaniac, any hope we had that he will not destroy what is left of our poor country, all of that was stood up against a wall and shot, by Trump himself, doing what he has always done but doing it now as President.
The most vile face of the future was shown to us all on Saturday night, when an obviously rattled Trump functionary, under orders from his furious boss, summoned the White House press corps to a tonguelashing. Looking in his ill fitting suit like a cross between Beaker the Muppet and a KGB interrogator, Press Secretary Sean Spicer harangued the press corps for daring to spread the truth — that there were fewer people at Trump's inauguration than at Obama's, or at the Womens' March the next day. Never mind the objective and conclusive photographic evidence, he told them, they should instead be reporting that Trump's ascension was watched by "the largest audience to ever witness an inauguration — period — both in person and around the globe."
Then came the truly ugly part. Remember, this is day two of a new administration. Yet there is the spokesman of the Ministry of Truth telling that nation's press that if they continue to prefer documented reality to the Donald's self-aggrandizing fantasies, they should expect to be "held accountable." "That," said an obviously shocked White-House correspondent later, "was a threat."
If this does not make you recall every movie you've ever seen about the advent of a Reich or a Soviet or a Great Leap Forward, then you haven't been watching this movie closely enough. Let's review:
Day One: In a speech to CIA personnel dragged into the office for a Saturday soiree, Trump says of the Iraq War, "we should have kept the oil. Maybe we'll get another chance." Holy crap! There's going to be a do-over?
Day Two: "You will be held accountable." What's all that noise in the Rose Garden? Are they building a scaffold? No. Not yet.
Day Four: The President declares the day of his ascension to have been a national holiday, proclaimed after the fact as "A National Day of Patriotic Devotion." Don't you wish we had known at the time? So we could have been more devoted, and got the day off? Sales of Orwell's 1984 skyrocket across the country. [Do we have a Ministry of Truth yet?]
Day Five: Almost immediately after the mayor of Chicago suggests that Trump should have more important things to do than worry about his crowd size,  the Donald tweets that if Chicago doesn't get its "carnage" under control, maybe he should send in the "feds." To conquer crime? Or to shut up the mayor?
Let the word go forth from this time and place: It is no longer possible for the densest among us to overestimate the Donald's intelligence or to underestimate his self-regard. With regard to his intelligence:
When he says we should have kept the oil, he obviously has not the slightest idea what he is saying. Does he think the oil in Iraq was available at taps, for people to fill their tanks and sail away? Does he think someone somehow got the oil out of the ground, transported it hundred of miles to ports and distribution points, ready to go. Does he think?

When he says that unless Chicago gets its murder rate down he might send in the "feds;"

what does he mean by feds? FBI? Homeland Security? Federalized National Guard? Answer: he doesn't know what he means. Stop thinking that he does, when he riffs out vague, easy solutions. He's not concealing the answer from you, he doesn't have an answer.

does he really believe the solution to violent crime is simply armed force? Of course he does, and why should anyone be surprised? He has never read a book or finished a complex thought, and he comprehends the principle of cause-and-effect at the level of an eight-year-old.
With regard to self regard: Donald Trump obviously believes, as his supporters do, that he has been elected King. He and he alone will declare wars and cancel treaties and direct the affairs of enormous corporations and put his enemies in jail. He and he alone will lower taxes and invest in infrastructure and reopen West Virginia coal mines and bar Muslims from the country. He seems to believe this. His supporters believe it entirely.
He is, as Forrest Gump said, "not a smart man." By the time he figures these things out he will already be running out of time. By the time his supporters figure it out, he had better be in hiding.
I know I will be, because by that time the world will have had its way with us.
Do you get it yet? The most powerful country on earth has been turned over to a profoundly ignorant, vengeful bully who is intent on convincing us that he, and he alone, can save us. And if we don't see that on our own, well, has has command of a bunch of "feds" now.
It's going to be a rough ride, starting five days ago.